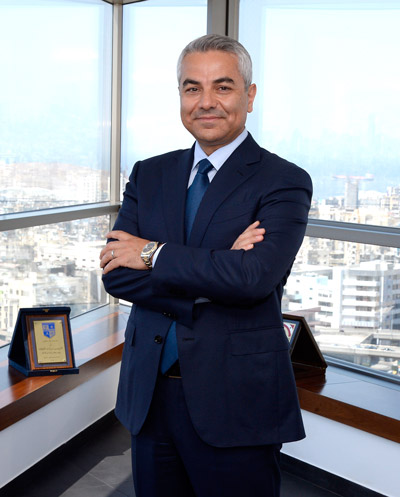 Marwan Hayek took the helm of Alfa, the first Lebanese mobile operator managed by Orascom Telecom Media & Technology (OTMT), as its Chairman and CEO, since March 2010, putting his international experience at the service of the Lebanese telecom sector, by introducing state-of-the-art technology, and bringing Lebanon back on the regional telecom map, through leading the introduction of the 3G+ technology that was first launched by Alfa in Lebanon in October 2011 as well as the introduction of the 4G-LTE and 4G+ LTE-A technologies which Alfa was the first to launch in Lebanon.

Marwan Hayek is an experienced telecom executive with over 22 years of field and operations experience. Mr. Hayek started his career with France Telecom in Lebanon – Cellis, known currently as Alfa, where he was part of the initial team that built the first GSM network in Lebanon, before joining later on the Orascom Telecom Holding (OTH) family back in 1999.

Since 1999, Hayek has held several assignments within the Orascom Telecom Group's subsidiaries and its Holding, the latest before his current appointment was in September 2007, where he joined Mobinil - Egypt that has more than 30 million subscribers, as VP Technology in charge of both network and IT infrastructure. With the winning of the Management agreement of Alfa by Orascom Telecom, in February 2009, and in addition to his position at Mobinil, Hayek was appointed on the Board of MIC1-Lebanon and Orascom Telecom Lebanon.

Prior to Mobinil, Hayek was the CTO of Mobilink-Pakistan (an Orascom Telecom subsidiary) since June 2003, where he played a major role in building an infrastructure capable of handling more than 30 million subscribers in less than four years. Between 2000 and 2002, Hayek was part of the team who built Sabafon's network in Yemen in the position of CTO managing both Technical and IT departments. Moreover, his role in business development between January 2002 and June 2003, as OTH Technical Director was substantial, where he worked on various projects and acquisitions in Africa and Asia. The work of Hayek contributed to the growth of OTH to over 120Msubs where he contributed directly to building an infrastructure capable of handling more than 60 million subscribers.

Mr. Hayek holds a Master's degree in Telecommunications and Electrical Engineering from the "Faculte Polytechnique de Mons" in Belgium. He had attended and participated in several technical, IT and Management trainings including but not limited to CCL, MEIRC, HEC, INSEAD, MIT & Harvard.

Mr. Hayek is a member of the UN Global Compact Lebanon SDG Council as a Goal Leader of SDG #9: Industry, Innovation and Infrastructure.
In February 2018, he was elected on the Board of Directors of SAMENA Telecommunications Council. He is the first CEO of a Lebanese mobile operator to join this strategic Board.

Mr. Hayek has received several awards in recognition of his contributions to the telecom sector's development in Lebanon and the MENA region. He was named the "Operator Telecom Leader of the Year 2016" by leading telco publication "TeIecom Review" at its annual Industry Summit gathering top telco regional and international executives. As well, he was awarded from the same magazine the "Leaders Merit Award" back in 2012. Among the other honors received by Hayek, he was awarded the Pan Arab "Telecommunications Man of the Year" title in 2011 by the "Pan Arab Web Awards Academy, the "Visionary Entrepreneur Award" in 2012 at the Business Entrepreneurship Forum, and the "Golden Order of Merit for Leadership" in 2012 from the "Arab Administrative Development Organization" (ARADO), an affiliate of the League of Arab States. Hayek also received the "Golden Award for Leadership in Digital Economy" in 2014 from "Tatweej" Academy for his contributions to the advancement of Lebanon's digital economy.