Postpaid roaming tariffs
Roam abroad for Alfa Postpaid lines users
With Alfa, you can now roam in most countries across the globe! To check the availability of this service, click here and select the country you are traveling to and click on the submit button to get detailed information on available operators and tariffs.
These tariffs are subject to modifications at any time, without prior notice.

Data Roaming Tariffs
To check the Data Roaming tariffs, click here
N.B:
Tariffs include VAT and are estimated per minute, in US dollars, except for SMS; these are calculated based on the number of characters (1 SMS is equal to 160 characters, and costs 0.09 cents when sent to local Lebanese numbers and 0.18 cents to international numbers). Other fees related to the visited country tariffs (such as outgoing calls to international destinations while roaming) will be added to this initial cost as per the applicable tariffs of the operator in the visited country.
The reception of an SMS sent by a subscriber to a foreign operator is not guaranteed. Indeed, some foreign operators with whom Alfa currently has a roaming agreement may not always allow the receipt of SMS on their respective networks. Please note that no notification of receipt will be sent to the sender of the SMS. Either way, the SMS sent is billed according to the tariff per SMS.
Prepaid roaming tariffs
For operators that support the voice roaming service:
Click here to discover the tariffs and countries where the Voice Roaming service is available.
For operators that do not support the voice roaming service:
Outgoing calls
| | 8:00 AM - 10:00 PM | 10:00 PM - 12:00 AM | 12:00 AM - 8:00 AM |
| --- | --- | --- | --- |
| Alfa Prepaid | $2.853 | $2.781 | $2.709 |
| Waffer 9.09 | $2.903 | $2.843 | $2.783 |
| Waffer 15.15 | $2.853 | $2.803 | $2.753 |
| Waffer 27.27 | $2.833 | $2.787 | $2.741 |
Outgoing Call on Aeromobile to Lebanese or non Lebanese number: $8.32/per 60 seconds
Outgoing Call on OnAir to Lebanese or non Lebanese number: $5.67/per 60 seconds
Outgoing call on thuraya is $3.33 per 60 seconds
Incoming calls
Choose a country and click submit to check the incoming tariffs.

About
Dear Visitor, Welcome to Lebanon.
For the roaming tariffs, kindly refer to your home operator. On the other hand, avoid expensive roaming and Talk Lebanese! Get an Alfa prepaid line for only $3 (excluding VAT) With all our wishes to enjoy your stay.

Useful Numbers
112 Police
125 Civil Defense
140 Red Cross
122 Red Cross
160 Operations
111 Alfa free Helpline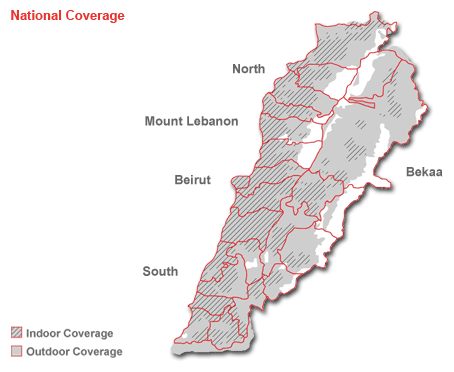 Prepaid national roaming
About
The National Roaming Service allows Alfa Postpaid and Prepaid subscribers to benefit from another operator's network coverage in specific areas where Alfa has no network and vice versa.
Calls and SMS tariffs
The same tariffs currently apply for postpaid and prepaid subscribers.
To check the national roaming areas open to Alfa subscribers, check below.
To check the national roaming areas where another operator's subscribers can benefit from Alfa's network, check below.
How to benefit / activate the service
If your handset does not automatically detect another operator's network, you can activate the service by:
Accessing the network settings through your phone.
Setting the network selection to "Manual."
Selecting the other operator's network.
Making sure you have successfully shifted to another operator's network.
Switching the network selection settings back to "Automatic."
N.B.: The above steps should only be done once.
Important to know
While roaming on another operator's network, postpaid subscribers will not be able to benefit from:
Data service (Mobile Internet, Blackberry)
3G network including video calls
Limited international access
Twin Card (when diverted to busy, no reply, or not reachable)
SMSes and calls to premium short codes
SMSes and calls to 114
While roaming on another operator's network, prepaid subscribers will not be able to benefit from:
Calls to 1456, 1454, 1457, and 115
Data service (Mobile Internet, Blackberry)
3G calls including video calls
SMSes and calls to premium short codes
Invisible