Price
New line price
$8.34
Credits
$1
Malak-e plan
$1.34 / month (30 days validity)
Total local minutes
40
Extra consumption rate per minute
$0.08
Total local MBs
20
Extra consumption rate per MB
$0.01
SMS notifications
Unlimited

GPS yearly subscription: $36 (starting 2nd year)
The Malak-e Mate is a watch for kids and seniors connected by an Alfa Prepaid plan. Its tracking and calling functions allow you to easily locate, monitor and contact your beloved ones anytime, anywhere from your phone.
By using Alfa's cellular connection and GPS technology, the durable and colorful Malak-e Mate Watch keeps you and your beloved ones connected.
The watch can be configured to allow the the wearer to call you at any time, and even send unlimited pre-defined SMSes to pre-configured numbers.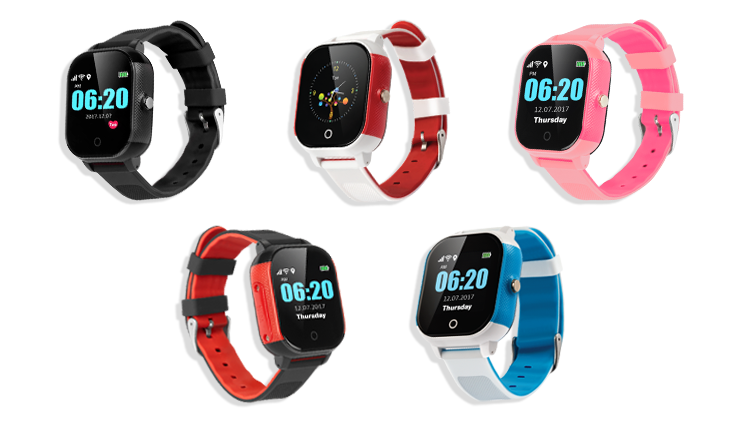 Smart locator
You will be able to locate your beloved ones through the Malak-e application once downloaded on your smartphone.
Voice & SMS
The watch has voice and SMS capabilities thanks to a built-in speakerphone and an OLED screen.
It can call up to 2 pre-configured numbers and receive calls from 20 pre-configured numbers as well. The limited contact list helps the wearer to reach you easily.
Emergency calls
It has an emergency button (SOS) that lets your beloved ones make emergency calls and send SMS notifications to the predefined numbers by simply pressing it for three seconds.
The watch keeps, then, calling the numbers until one of the recipients answers.
Stay informed SMART NOTIFICATIONS
The watch is embedded with a feature that notifies you: the pre-defined numbers, whenever the watch is dropped, collides with an object, or removed from the wearer's hand.
Secure area
You can set multi security areas on Malak-e's smartphone app in order to get notified whenever your beloved ones go out of the defined security fence.

Feature for Android only:
As an additional layer of security, the watch is embedded with a proximity sensor that connects to the mobile application and lets you locate your beloved ones when they're nearby.
The proximity sensor requires Bluetooth 4.0 and higher.
Model

Malak-e KT01

Screen
1.3 inch IPS screen
Battery
Built-in 500mAh battery
Standby time
About 72 hours
Talk time
About 4 hours
OS requirement
Android 6.1 OS or above
iOS 8.0 or above
Connection
2G / GSM / GPRS
Location
GPS / LBS / WiFi multimode positioning
Ports & buttons
Speaker, Magnetic charging port, Micro SIM Card, microphone, power
Weight
43g
Size
Watch width: w 4cm, L 4.5cm
Strap length: 24cm
Package size
135 x 102 x 75mm
Package contains
1 x USB Cable 1 x Screw Driver
Subject to Availability


To check the available balance, download Malak-e application iOS and Android
To recharge the alfa prepaid plan:
Click here
Dial *111# and follow the instructions
Call 961 3 390390
The prepaid plan is renewed every 30 days. Accordingly enough balance should be available in the account or else the number will enter the retention period (same lifecycle of U-Chat plans)
Incoming and outgoing iternational and roaming calls are not allowed
Mobile internet is not compatible with the Malak-e Mate Watch Alfa Prepaid plan
A prepaid plan change is not allowed for the Malak-e Mate Watch with an Alfa Prepaid plan
Credit transfer in is allowed
Credit transfer out is not allowed
The watch is available at all
Electronic spaces store (Zalka)